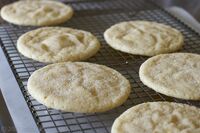 A cookie is a popular confectionary snack made out of dough. Most cookies have a lot of calories, thus, they are considered to be 'snacks'. Many different cookie flavors have been created, such as Chocolate cookies, Chocolate Chip Cookies and Sugar Cookies.
Ad blocker interference detected!
Wikia is a free-to-use site that makes money from advertising. We have a modified experience for viewers using ad blockers

Wikia is not accessible if you've made further modifications. Remove the custom ad blocker rule(s) and the page will load as expected.