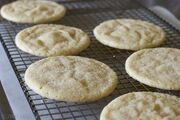 This is a Cookie Recipe!
This is the recipe for Sugar Cookie. Feel free to make them with the recipe given, that is what they are here for!
Recipe Added by Seahorseruler
| | |
| --- | --- |
| | This recipe is safe for people with nut allergies, and does not contain any traces of nuts. |
The Sugar Cookie is a popular cookie famous for being very plain. These cookies are very often decorated for holidays. They are also very soft.
Ingredients
Edit
2 ¾ cups all-purpose flour
1 teaspoon baking soda
½ teaspoon baking powder
1 cup butter, softened
1 ½ cups white sugar
1 egg
1 teaspoon vanilla extract
Preheat oven to 375o F (190o C). In a small bowl, stir together flour, baking soda, and baking powder. Set aside.
In a large bowl, cream together the butter and sugar until smooth. Beat in egg and vanilla. Gradually blend in the dry ingredients. Roll rounded teaspoonfuls of dough into balls, and place onto cookie sheets (not greased).
Bake 8 to 10 minutes in the preheated oven, or until golden. Let stand on cookie sheet two minutes before removing to cool on wire racks.
Nutritional Information
Edit
Amount Per Serving: Calories: 86 | Total Fat: 4g | Cholesterol: 15mg
Credits for directions
Edit
Ad blocker interference detected!
Wikia is a free-to-use site that makes money from advertising. We have a modified experience for viewers using ad blockers

Wikia is not accessible if you've made further modifications. Remove the custom ad blocker rule(s) and the page will load as expected.